Thursday, September 27, 2007
I, Chief Slacker, am in need of your help. Here at work I am soon going to be moved out of my team's neat little project room, and smack into the middle of a cubicle farm. Yes, it's a horrible tragedy I know, but it can be remedied!
How you ask? By accessorising!
While I am starting to feel like Melvin and that I should be getting a red Swingline Stapler since I've been moved 3 times in under 3 months, that time is over. In my chats with Miss Intrigue she pointed out I need fun in my cube. I decided it's time to make my cubicle a fun destination. I had some fun accessories before, like my 14" Marvin the Martian resin statue, my Lava Lamp and even some fun little halogen accent lights, but it's time to step it up a notch.
What I need from you fellow slackers are some ideas. I need your help in making my cubicle the Coolest Cubicle in the Company. Yes, alliteration is always awesome, now pay attention here, we have slacking to do! It's the duty of a good slacker to have a fun cube. I shall need toys and other neat things to entertain and distract.
So, HOP TO IT! lets hear some fun slackerly ideas you've done with your cube, or have seen done in others. Tell me of awesomely fun gadgets I can install!
I must build on my Martiany, Lavay goodness! I am thinking though the start to any good Cube is it's defenses. Since the Coolest Cube in the Company will no doubt attract jealousy, it must be well defended in case of any envy attack. I believe for my first line of defense I shall install a
Laser Guided Missile
system. That should hold them off while I formulate my plan to become king of the cube farm.
Time to take cubicle slacking to the next level... let's hear some ideas!
posted by Chief Slacker @ 1:08 PM, ,


Tuesday, September 25, 2007
So yeah, I really need to post more often. Odds are this one is going to get fairly long again since I had a nice, fun, busy weekend. The definite highlight of the weekend was making a new friend, who happens to be a very fun cute girl. Of course, the best will be saved for last.
Anyway the weekend started a little early with a visit from the True OG herself, Orientation Girl. She was in town again doing some recruiting and as per usual we hit up Stub and Herbs and worked off a little bit more of the shot list. To start, we had a Prairie Fire. Name sounds bad eh? Yeah well, the ingredients suck ass too. Tequila + Tobasco Sauce = Torture in a shot glass. We eventually finished off 4 more shots from the list effectively bringing us into single digits left. For those of you keeping track, of the 101 shots on the list, we now have ONLY 6 left. I can't wait till OG comes back to town on Oct 12th so we can finish off the last 6. We're so making Stub's give us shirts, or lovins, or something. Yeah. Six years of slacking finally coming to an end... It shall be fun!!
So Friday rolled around and I found out a friend of mine for years back was in town getting married. they're keeping it a small affair, since it was being held in a garden area of the Como Conservatory. At the last minute G-Spot calls and tells me there's room and that I should come. So I haul ass home from work, and frenetically find my suit and get to the wedding like 5 minutes before it started. The ceremony was short, sweet and very pretty in the Japanese Sunken Garden. We mosied on over to a different area of the conservatory for the reception, where there was some nummy food, and even better company. It's here that I met Miss Intrigue. More on her later (Hah! keep slackin, the good stuff will come.) They had an open bar, which any good slacker can fully appreciate. In the off chance the Chief here ever does get married, it will definitely include an open bar. A good deal was definitely had by all and it was really great to reconnect with a friend I hadn't seen in years!
Saturday was off to Ren Fest. I met up with Conservative Girl and her fam, and we were also supposed to meet up with G-spot, her boyfriend and also the wedding party from the night before. We managed to find G and her guy, but never could track down the wedding party. Sad. The highlight of the day though, was that like last year, CG's fam brought their puppy! And to top last year on the way up the got a NEW puppy as well. Not only was the ever cute Squirt there, but the new puppy Pepper (aka Dr. Pepper) was entirely adorable. they even had fun little costumes, Squirt had fully ironic Angel wings and Pepper had a little jester's collar.
Tell me those puppies aren't awesomely cute. I spent much of the day carrying pepper since the whole thousands of people around thing was a little overwhelming for her. I could rarely walk more than about 50 feet without someone wanting to pet her. It actually was CG's intent to bring the puppies to I could hopefully parlay then into picking up a girl, but that was unsuccessful. part of that may have also been due to the fact my mind tended to wander back to my new friend from the previous night, but who knows. In all it was a fun day.
The rest of the weekend was spent relaxing and doing a very large amount of chatting with Miss Intrigue. Ok, Ok. I'll stop with the teasing and tell you slackers about her! So at the wedding reception, G-spot's boyfriend and I are milling about chatting. Since I had been a last minute invite I was not included in the assigned seating and has to scope out which tables had available room. At some point G's BF (I can't think of a good name for him yet) and I start talking with two cute persons of the female variety about the hors d'oeuvers. As we talked I found one of them increasingly interesting. When I found out there was room at her table I made sure to stake my claim to a spot. We basically became surrogate dates for the night from there on out. We continued talking basically the whole night, during dinner, even though there were 5 other people at the table, I quite often forgot they were there in the midst of convo. For some reason our personalities seemed to click absurdly well. We hung out the entire reception and when it all concluded I gave her a ride to her hotel.
The evening could very well have ended there, however it did not. Since we had exchanged info, emails, IM, Phone, websites (yeah, we went WELL beyond the typical digits on a napkin deal) some text messaging ensued. At first it was innocent, but increasingly it became, well, flirtatious may be an understatement. Like 20,000 leagues under. Propriety however reigned, and it was left to simply flirting.
Hold the presses! Chief Slacker, Propriety, what, you say?? This is where things get interestingly complicated. In the course of the evening it was discovered that Ms.I has a significant other. Ack! You say? Not quite yet. The situation is quite unique, but will be kept personal until otherwise allowed. However, the situation most definitely does not preclude friendship, or even much more. Keeping that perspective we were good little kiddies that night. Since Friday night though, we have kept in pretty much constant communication.
For those of you who keep track of my crazy relationships, you're asking what other issues are there aren't you. Yeah, you know who you are. Don't lie! So far, there's really only one: distance. Me = Twin Cities, MN; Ms.I = Rochesterish, NY. Hi, half a country. Boo.
For most previous females I've met usually that would end up being a deal breaker. Oddly, not yet for this one and I'm not sure why. I named her Miss Intrigue over a good number of other possible names mostly for that reason. She interests and intrigues me in a way, really, not many if any have. She's not really my typical type, but from when we first started talking at the reception, there was most definitely an attraction. Usually with girls I'm attracted to, my typically uncanny knack for reading people and personalities gets cloudy. Such is not the case with her. Even her significant other situation, which we she was quite worried to discuss, I had read, assumed and understood before it was discuss. It's an absurdly odd connection thus far. And it's one I'm quite certain you all will be hearing more about.
So, now for something I'm sure you're all waiting for. All three of you. Yes you. I now introduce Miss Intrigue:
Allright, I'm off, keep on slackin!
posted by Chief Slacker @ 12:09 PM, ,


Sunday, September 23, 2007
So yeah, the weekend was good and action packed.
Friday i was invited last minute to a wedding and made a very intriguing new friend. Saturday I hung out at Ren Fest with Conservative Girl, her parents and two adorable little puppies. Sunday, I got to see the apprently underrated Packers beat the Chargers. In fact, this weekend was so good, I'm just going to slack off the rest of the night and post about it tomorrow.
Lter slackers!
posted by Chief Slacker @ 9:24 PM, ,


Sunday, September 09, 2007
Warning, the action packed contents of my last week and a half are been squeezed into one post. It's worth it if it you can make it through ;O)
So Puerto Rican Pauly has been visiting for about a week and a half now. I pray to any god that will listen to me that I actually have some vacation time next time he comes to visit.
He flew in last Wednesday and at that point I was still working at the State Fair. Luckily he has a good number of friends in the area still and was able to find some fun stuff to do. Though, the kid needs to remember directions better while drunk so I don't go to sleep then get a 3am phone call asking where Slacker HQ is again.
Anyway, Monday rolled around and was my last day at the fair. To celebrate I met up with him at a friends house and manage to chat and drink many beers till 4 am. Work Tuesday morning was fairly painful.
Tuesday we hopped around uptown and met a friend for his official birthday as a warm up to his party on Friday. We also met up with a college friend of PR Paul's who was in town from Pittsburgh for a couple days. 2am comes far to quick sometimes... Work was again painful, but copious amounts of coffee is a good thing sometimes.
Wednesday we headed toward campus and were elated to see that our favorite old haunt, Stub and Herb's was back open again and still kept the employ of most of the good people who worked there. Even better it's now under less slumlord-esque ownership and nicely spruced up. We hopped to Sally's for a while and hung out with some friends, then headed back to Stubs where some other friends had shown up. For legal purposes we'll say that night ended at 2 even though it's possible it went a bit later than that. Work that next day actually proved basically impossible.
Thursday, we met up with another friend Murray at Gastof's. While the German beer was still flowing the good crowds were nowhere to be found. There was maybe 20 people there, even for a Thursday that was insanely dead. At least I got to chat with a pretty darn cute Sergeant in the army. Conversation with cute girls always makes a night good. Work the next day was pretty decent even if they tried to put me to sleep with several pointless and boring meetings
Friday was the friends B-day at The Independent. This place can be one hell of a crowded zoo on Fridays and Saturdays. Luckily he had reserved us a private room. Drinks were flowing well till they kicked us out. After that we went and had a post party at one of his friends houses nearby. At about 5am I could tell the host's fiance was out of steam so I nicely suggested we all depart. Thank god for being able to sleep till three the next day.
Last night we went downtown Minnapple and met up with some other college friends at Masa. It's a high end Mexican restaurant. The food was decent but really nothing special. The food was tasty, but would have been better if it was just a tad spicier. Afterward we went to Brit's and had a few drinks. Then off to the Newsroom for a beer. After that we ended up at a strip club. The reason we ended up there was in support of a guy there who was having his "non-wedding." It was supposed to be his wedding day till it was called off three months ago. I really can't think of a better reason to go to a strip club, can you? The Seville left quite a bit to be desired. It was a very nice classy place, the girls were good looking but for being a "Cabaret" the dancing was horrid. Sure, a Cabaret doesn't technically have to provide dancing, but at least entertainment. I'm no Strip Club connoisseur, haven't been to one in many years prior, but really, the girls barely tried. At least dance a little, or at the VERY least, when you're lazily leaning against that mirror, wiggle your ass to the beat. Sure, I'm a guy, seeing boobs is always mildly entertaining. Really, though, the breed of rhythmless girls they had there made it start feeling more like seeing boobs in a National Geographic show. I'm sure I'm waxing chauvinistic here, but I guess I believe if you're going to do something, do it well! Luckily two girls there, one in an FBI jumper named "Kinsey" and a red-head that danced to swing saved the day somewhat. Thank you for not completely shattering my beliefs in strippers. For the others though, maybe we need to start a movement, People for Strippers with Rhythm. Maybe, per Paulius's Rant
we need to classify it Rhythmless Stripper Syndrome and have the drug companies make something for it. Either way, please save the strippers!
Anyway, yeah, we're planning on hitting The Wild Onion tonight. So, if any of you wanna come have a drink, or if the women readers want to come kick me in the nuts for being a pig, we'll be there. It's Pauly's last night in town so it should be fun! Keep slacking everyone!
posted by Chief Slacker @ 12:14 PM, ,


Sunday, September 02, 2007
Slacking is a great way of life, I highly encourage anyone to slack whenever possible. it definitely makes life more fun. The best slacking, however, is the PAID kind. Not only can you go have fun, but you can do it on the clock.
Friday we had a division picnic. They had a really nice spread of food on the patio outside our building. To make things better they had games. They had a ping pong table set up, a volleyball net up and they also had the little game with golf balls on a string and three crossbars to try and get them on. Two hours of hanging out outside on a GORGEOUS day, all while getting paid. Definitely a good end to that work week.
Tonight, working the second job at the State Fair, we decided that since we've been finishing early, we could extend our normal 15 minute break a litte. So, when break time came, we hit the Midway. We walked around, scoped out the rides and played a few games. I played three of those squirt gun games and won one. I got a really snuggly bear which I gave to Johnny V, a guy who was at one time a friend and roommate, has a two year old and is the supervisor of the night crew. I also managed to win the one time I played the game with the big gun that shoots out balls and you have to knock down six targets. For that I got a new friend named Buddy!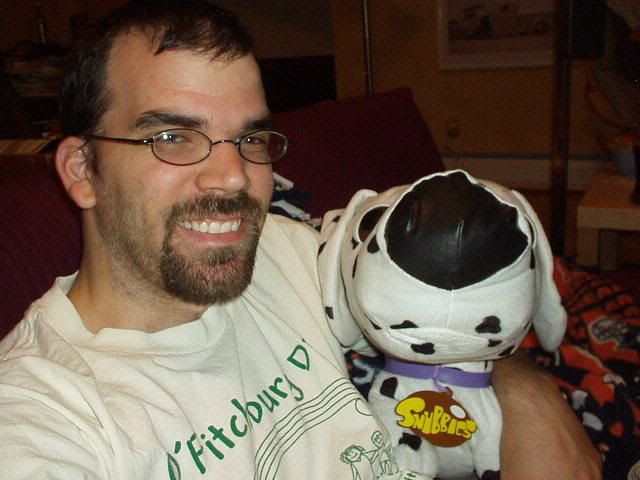 He's an adorable huge headed "Snubbies" Dalmatian. Much fun. And, again, the whole time we were on the clock. And just so you don't think we were slacking TOO much, even with the extra 45 minutes for break, we only finished 15 minute later than we did the previous night.
Ok, well, time for me to go hang out with buddy and Puerto Rican Paulie since he's up from the PR on vacation.
Lata!
posted by Chief Slacker @ 1:43 AM, ,