Tuesday, October 31, 2006
And yet again life gets crazy.
My life the last month has kinda lived true to the old cliché: "That which changes oft remains the same."
So many things from this year have come to an end: Summer, That Great Job, Kickball, My patience with Cute Paramedic, My dislike of coffee and most recently my will to have fun.
It's now most definitely Fall here in good old Minnesota. Mother nature painted her great fall colors, but they're slowly bleeding off to leave a dull brown canvas. Gone are the days of "God, what a BEAUTIFUL day!" Now in their place is "God, it's f#$%ing FREEZING out there!" Don't get me wrong, your Chief LOVES a good snowball fight, but yeah, warmth is nice. What's worse, this also marks the end of skimpy clothes season completely. Regardless of what magazines may have you believe, that whole hot women wearing a bikini under their parka thing… Never. EVER. Happens. Maybe in like Veil or something, but Minnesota women are far to smart for that. You can tell I'm still living in denial over summer being gone since my air conditioner is still in my living room window. Come on, there could be a heat wave in November right? Shhhhhhh!! Delusions are fun.
So yeah, the great new job I found? Bye, Bye. Between my bad luck away from work and their lack of money, The Great Job has come to an end. The last two weeks of silence were a product of job hunting and not being uber-busy at work as was the case previously. That puts me back where I really dislike being: hunting for a job. I am currently writing from a temporary job I accepted just for the sake of actually having an income. The Temp job is fair lame compared to previous. Instead of design medical devices that save lives, I'm helping design and document the displays and shelving for all the new Sephora stores around the country. (If you don't now what Sephora is, you're A. not female, B. Not trendy with make-up and smelly-good products.) Walk in to any new Sephora store or in-store Sephoras in JCPennys and the Black and Off-white displays you see were built by contractors looking at the drawings my company made. There's very little creativity involved so, despite being a huge slacker, this is definitely not the job for me. It does however pay the bills and the job was accepted on the condition I am allowed to take time to go to other interviews. I have so far turned down three interviews because the jobs would be obviously be bloody-freakin-boring. I'll definitely keep you all up to date on the new job hunt.
The Summer/Fall season of Kickball has come to an end as well. My team, the Gym Class Legends, well, sucked. In the field anyway. We went 0-7-1 on the field, but managed to come in second in both of the Flip-Cup tournaments during the season and usually dominated the flip-cup at the bars. As with the Spring season, this one was remarkably dry as far as the dating front goes, but I really wasn't trying either. I'm definitely in the "don't care" stage of the dating cycle. Despite being fairly terrible on the field, we had a fun team and it sounds like we might be getting together just for the heck of it on Thursday and/or Friday. Should be fun!
Speaking of dating, Cute Paramedic popped up again. As per usual, I fell into the trap of actually being hopeful. She randomly messaged me asking what I was doing for the Halloween weekend and said we should find something fun and Halloweeny to do. Since a friend of mine had invited me over to a party at her place I invited CP along. We chatted quite a bit during the week on the phone and via text message up until a last text message Saturday afternoon. Come party time though? Nothing. Unfortunately there's nothing since either. While I most certainly hope all is well with her and her family, the lack of respect is fairly glaring. To quote another cliché: "Fool me once, shame on you, fool me twice, shame on me." Well, we're now on to thrice (or possibly what four version of that is) so I do believe I'm thoroughly exposed as being an idiot when it comes to women. Shame on me indeed.
That being said, the snafu with Cute Paramedic has actually led to encounters with a new member of the female species. I have yet to settle on a name for her (some options: Nessie, Snake Dancer, Dr. House Fan) but I shall decide soon. Anyway, I flew solo to the party and mingled a while and eventually got talking with who, like me, knew very few people at the party. After some talking we ended up having quite a bit in common: Friends who tend to disappear for lengths of time, a love for House, being recently unemployed and others. From further conversation I found out she worked as part of the entertainment for Renaissance Festival doing dance and such. Since CP knew a large portion of the entertainers from Ren Fest I asked if she knew of her. Turns out She Who Shall Yet Be Named is fairly good friends with CP's sister!  We talked and realized a decent possibility for CPs absence may have been due to a surgery within the family so she worried and immediately called CPs sister to check in. This did make me feel a wee bit creepy though since she enquired about the status of CP as well. I definitely didn't ask her to call or to check on CP, but it still left me feeling slightly stalkerish. Post phone call we returned to chatting and found that we'd both be uber-nerds the next day and would be watching the House Marathon on USA. Ten hours of House M.D. Gotta love it! I also invited her over for scary movie night on Halloween since she said she wasn't doing anything that evening. She left the party on the early side, but texted me later with her number and we got talking about Hugh Laurie (House!) being on Saturday Night Live and the missing the glory days of SNL. The next day there was some texting about the House Marathon and eventually she ended up at my place to watch the end of it. Since SWSYBN lacked cable and had to leave another friend's house who had cable, I offered the services of the big, pretty, plasma screen. Her mom lives relatively close to me so she stopped over last night as well to alleviate some boredom with "Heroes" and a good game of Mario Party 3. She's cute, quite fun, and has extremely long (albeit dyed) red hair. That's like Kryptonite to my usually stoic willpower toward women. (HA! I just couldn't say that with a straight face!) I'm trying to keep this on at friends for now as she mentioned she was "sorta" dating someone and a few other things. But, I figured now that I'm posting again you'll hear about her… so know ya know! Now to think of a nickname since she reports "Nessie" is already taken, and the others are bland… Hmm…
So yeah, there's life to date. Many changes, but still in the same place I've always been. Just a slacker  going about the business of life. Now I just need to get that will to go out and have fun. I've basically had to force myself to get out of the house and do stuff lately because I realized I hadn't actually even gone outdoors for like a week. Luckily the fresh job has helped the mindset, even if it's not a great one. Having a fresh face around with She Who Shall Yet Be Named has helped brighten those silver linings with a little fun lately as well.
Another new thing will soon be the Daily Slacker. I'm working on actually getting an official website and also a new format, so stay tuned Slackers!
So yeah, The Slack is Back baby. See ya round!
posted by Chief Slacker @ 1:21 PM, ,


Tuesday, October 03, 2006
My what a roller-coaster weekend here in Slackerland.
I suppose it could start on Thursday with kickball. Our team had a double-header due to people pussing out in the rain the week before. Our first game was against a team who would have forfeited because they couldn't make it the previous week. They got saved by the rain-out and ended up beating us. In the second game we were losing by one in the third inning with people on second and third with one out. Just as our best kicker came up, boom, all the lights get turned off. The young park attendant's mom had to speak for him when we argued the contract was until 8:30, not 8. They ran off an didn't turn the lights back on. Yet another double header looms ahead... Luckily though, that meant a trip to the bar where we got to watch the twins pull of the extra innings win in my previous post. Extra-Inning-Silver Lining found.
So Friday the plan was to meet up with G-Spot after work and head to Gasthof's for Oktoberfest. She wasn't ready when I got there, but that's not unusual and not a big deal. Her sister and a friend of said sister were en route from Fargo for the weekend, so we ended up having to wait for them. An hour later they finally show and say they'll be ready to leave in 20 minutes. An hour and 20 minutes later we're finally leaving. Thank goodness for hearty German beer. We did one boot (a 2 liter glass boot the group passes) and 2 1-liter mugs later I felt better. It also helped that I Tom and some other people I knew there. German-Silver Lining found. Unfortunately this one was short lived. After the girls got the itch to leave and rushed out, we got back to G-Spot's place and I realized my Tab, Credit Card and ID were all at the bar still. Bah!
Saturday didn't start out well either. I met up with Conservative girl so we and her parents could head to the Renaissance Fair with the rent's new puppy. We were supposed to meet at 10:30, but knowing how they work I showed little late at 11. The parents arrived at 11:30 and we still didn't head out until close to 12. Luckily Squirt, the new 3 month old Silky Terrier, was adorable. We drove down to Ren Fest unloaded the vehicle and as I was picking up Squirt, YEEOUCH! A little bastard of a yellow jacket decides to sting me on the palm side of my right index finger. Luckily since I survived a sting in the throat in high school, I'm sure I'm not allergic.
I bought the two day pass, planning ahead since the plan was to meet with G-Spot at Ref Fest Sunday. So we wandered Ren Fest for a little bit. It didn't take long to realize that tiny adorable puppy = people (Ok, mostly woman) magnet. Come on, who wouldn't wanna play with this?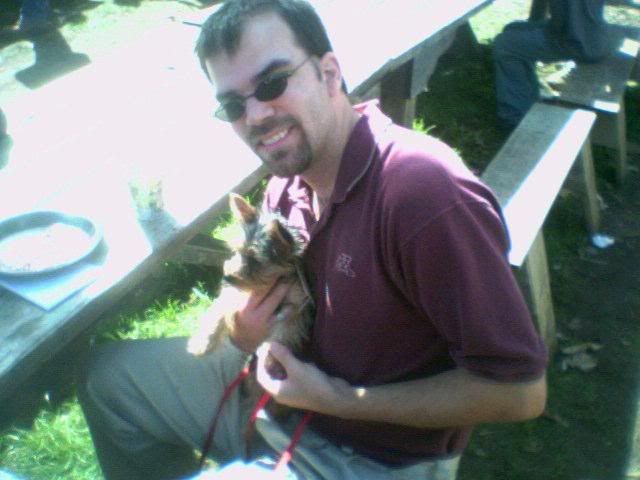 Yeah, I know I detract from the puppy. No, I don't have more pictures! ;O)
Anyway, just about the time that picture was taken I realize my hand it getting pretty stiff. I look down and say "Umm, maybe I am allergic to bees" as my index finger and half of my hand are twice the size they should be. Unfortunately, all the First Aid people there can do is give ice. The whole hand managed to swell up by the end of the day, but there was no sign of travel up the arm or any other problems so no worries came of it. The rest of the day was spent eating and watching a joust while somehow managing to wear all the little puppy energy out to the point she passed out on my arm. I wanted to go at about 4:30 to get home and meet up with friends for an event later. Since CG just HAD to show her parents this belly dance outfit she wasn't going to buy anyway we ended up there till well after 5. Squirt passed out in a ball on my lap for the ride home. Insanely Cute Puppy Silver lining found.
That evening I was supposed to meet up with another friend Whitey (that's the name he actually goes by, I can't give him anything better, heh) and some people to go to the Summit Big Brew. It was a music festival on Harriet Island with the top two bands being Soul Asylum and Cake. Living close by I jogged down to the Island because Whitey and the crew were supposed to be there. Much to my dismay however, it was 6:50 and I was hearing Soul asylum, who according to the Summit website went on at 8. I call Whitey to have him meet me at the gate with his ticket and find out he;s not even there yet. They had a ticket mix up and hadn't left yet. I called and let them know the schedule had changed and they said they were heading right out. I got let into the park without a ticket to see first aid because of my hand. Being the nice guy and thinking they were on their way I went back out after and waited for my ticket. Dumbass. At least I could hear the whole Soul Asylum concert well. Though it was said at 7:15 they'd be there in like 15-20, they didn't get there till 8:10. Luckily the Summit Beers they had on tap there went down quite easily and the Cake performance was ok. Silverish-amber Lining Found. John McRea the lead singer seemed like he may well have been drunk and was his usual arrogant self. The music was good though. Instead of bar hopping after, everyone else wussed out and I made the trek home.
The original plan for Sunday was to head out about 10 and get to the Ren Fest fairly early. The report that morning was the girls weren't in good shape from clubbing the night before and now were planning to be there at one. I headed down early to catch a show or two before the girls got there but ended up stuck in insane traffic. I called to warn them and found they now hopped to be there at two. I had mentioned I planned on leaving at about four because I wanted to be home for some stuff at 5. I got there and wandered for a bit checking out some of the last day deals when my hand started aching. Umm wow, it's bigger today. I get some ice and check in on G-spot. Bad news, looks like she's not going to make it to Ren fest by the time I leave, though I did mention she should give me a yell when she got here just in case. 3:30 brought a show with the very funny A Capella group Ten Second of Harmony so I figured I would see that and then head out. As per usual is was indeed funny. On the way out I hear "Slacker?" I turn to find Cute Paramedic and the Mistress o' Charades. While I still got the vibe that I'm on the outs with MoC, they did convince me I'd never make it to Slacker HQ by five (This was definitely true) and that I should stay for the Tortuga Twins final show. I text G-Spot to let her know I'm still there and get a call back: "Oh, I totally didn't think to call you, the car overheated, I won't be making it." Gee, thanks. I chill with MoC and CP order a last round of beers and settle in for the show. Like usual their show is great fun, and even more lewd since it was the last one. CP wanted to see her sister dance at the little closing Drum Dance so she and MoC jetted before the end of the show leaving me, yet again, alone at the fair. Things I should see coming. heh.
Luckily, during all of this I was informed that shortly after the Twins managed to beat the White Sox in their final game of the season, KC came back and took out Detroit. 37 minutes after their regular season was done, that fortunate turn of events moved my beloved Twinkies into soul possession First place for the American League Central Division. Woot. AL-Central-Champs Silver Lining Found.
I head home, stop at the store and pick up some benadryll and pizza. As you can see, my hand needed it:
Left - Normal sized left hand. Right - Giganto-sized right hand.
As my phone call Sunday night with CG for proof, by the end of the weekend though, all those silver linings were harder to keep track of. The weekend also proved I need a puppy. Yup.
My poor Twins dropped one to the A's today, but if they've proved anything, they're one hell of a scrappy bunch. Oakland watch out.
Oh well, time to make it though another week! Keep Slackin!
posted by Chief Slacker @ 3:06 PM, ,